The skill of the artisan is all in his expert hands.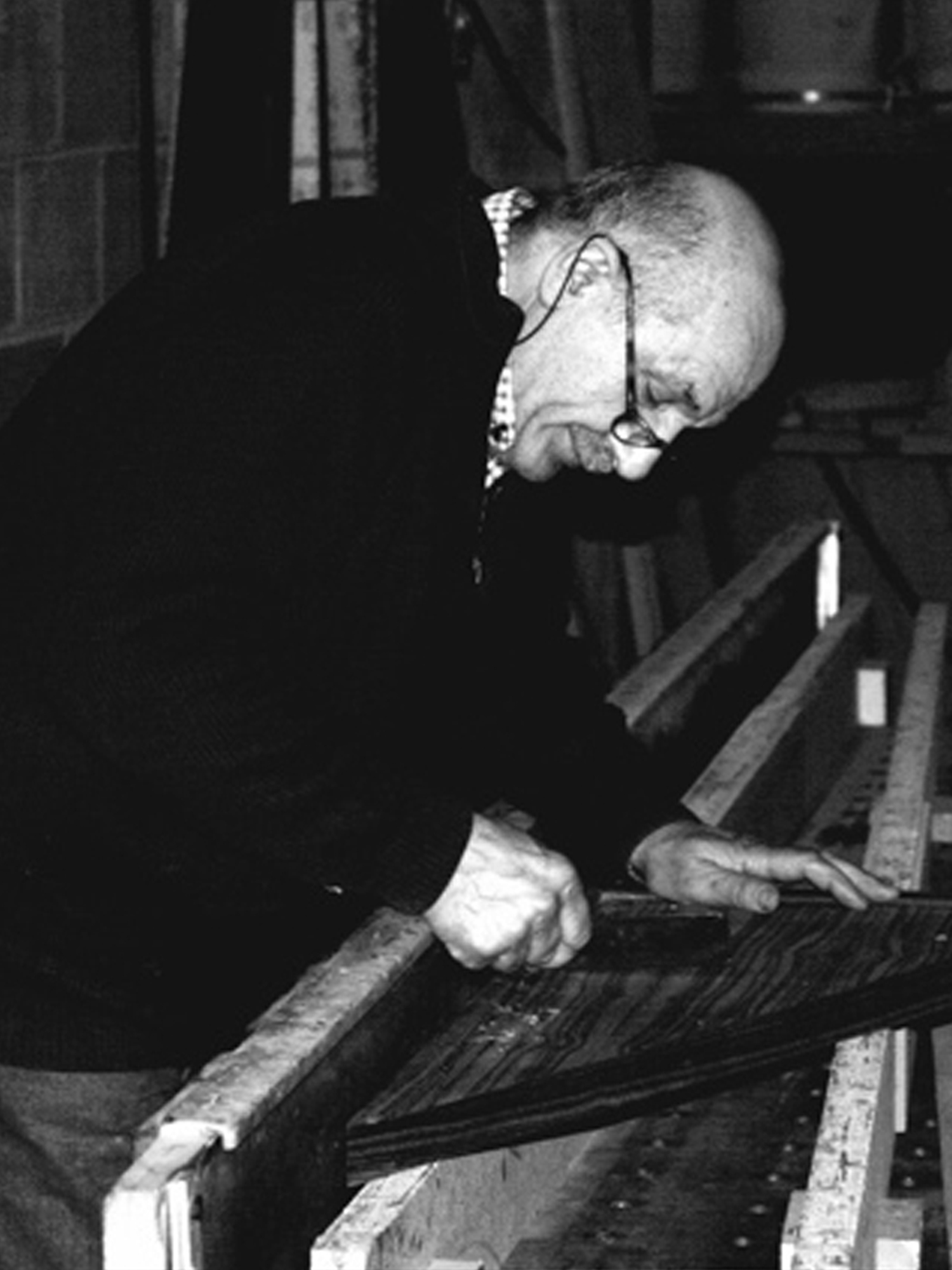 Although techniques have changed over time, Giordano Viganò's passion and attachment to his craft have continued as an irreplaceable requirement for those expert hands to create their masterpieces.
The passage of time has only rienforced his enthusiasm and willingness to research and experiment with innovative solutions, whenever new customers, whether private individuals or businesses, have placed one-of-a-kind requests. All this is possible thanks to Giordano Viganò's knowledge and his skilled use of the materials, first of all wood, and the modern technologies that have been added to the traditional working process.
Accuracy in selecting the precious materials to be used and careful attention to each specific detail, guarantee not only the highest standard of quality, but also add to the aesthetic value of each piece.
Moreover, his personal research has played an important part in adding significant finishing touches to the wood by coupling it with other materials such as glass, silver, bone and shagreen.
The result has been to promote the tradition and intensify the ability of an accomplished furniture maker.
This handicraft has resulted in the creation of pieces each of which presents a perfect blend of measure, harmony, and style. The purpose of this carefully applied expertise is not to produce something spectacular or pretentious which is so widespread nowadays, but to accentuate the pure beauty hidden in the smallest detail which makes every piece a unique treasure.
The stylistic message and the charisma of Giordano Viganò are found in his creations.
alessandro
2019-07-28T16:44:02+02:00
Portfolio Coffee tables Although the [...]
roberta
2019-07-10T16:46:43+02:00
Portfolio Tabula Aurea The game [...]
roberta
2019-07-11T11:42:50+02:00
Portfolio Miscellaneous objects Our homes [...]
roberta
2019-07-11T12:18:31+02:00
Portfolio Picture Frames A frame [...]
roberta
2019-07-15T14:42:26+02:00
Portfolio Kit del Legnamé The [...]
roberta
2019-10-28T12:48:46+01:00
Portfolio Writing desk Marguerite Elegant [...]
roberta
2019-11-05T00:24:33+01:00
Portfolio Valet Stand Gildo [...]
roberta
2020-02-12T15:32:37+01:00
Portfolio Prototypes Many design firms [...]
roberta
2020-01-19T16:38:37+01:00
Portfolio Events and Exhibitions Attending [...]
Info
Giordano Viganò
Strada Provinciale 39 Novedrate 22060 (COMO) Italia